Please help find lost Shelties… Please report any sightings!
Feel free to copy and paste the URL of this page to people you know that live in these areas!!
*FOUND Shelties have a live link telling about their rescue.
***4/9/17 ***SHANE IS STILL MISSING BUT WAS SIGHTED!
We have determined that Shane was seen 3 times in the area of Stevens Road/Browns Point Road but has not been seen in over a week. We need to get this boy pinned down to set a capture plan in place. He's a small dog lost in a large tract of land so PLEASE keep an eye out, even on the White's Road where he lived formerly BUT DO NOT CHASE HIM OR CALL OUT TO HIM if seen. Call Joe right away withe the date, time and exact location of any sighting at 207-522-8610.
***3/10/17***SHANE IS MISSING IN BOWDOINHAM, ME
Shane took off from his home on White Road by Pork Point Road in Bowdoinham on 3/7/16. He is an 8 year old 25 lb tan, brown, white and black Sheltie. He is wearing a collar with his rabies tag. Shane is a very shy boy – DO NOT CALL OUT TO HIM OR CHASE HIM! If you see him call Joe right away at (207) 522-8610
STILL MISSING!!
---
SKYE – Harrison Maine – Climbed over the fence on the snow.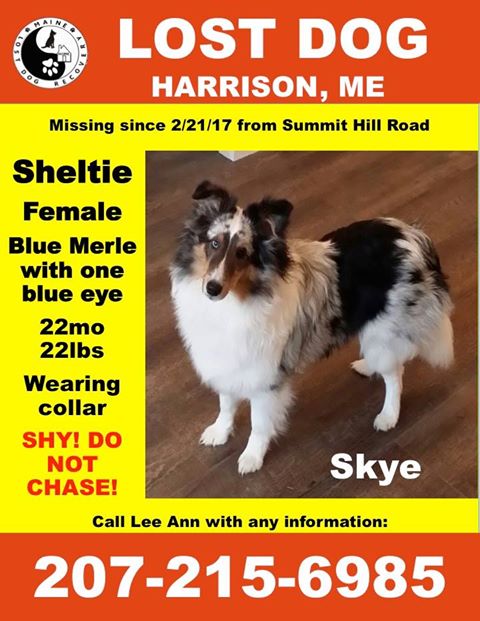 Click here:  FOUND and HOME now
---
COACH – Charlston Maine –
Ran off while chasing in woods with brother Sheltie Teddy
and did not come home when called.

Click: *FOUND AND NOW HOME
---
IAN and McTAVISH both slipped their collars in the Portland area.
(Please use secure harnesses or martingale collars for your dogs!)


Click: *YEAH!! FOUND!!                                              Click:  *FOUND AS WELL
---
JAIME-Richmond ME – June 12, 2015
(Chasing a squirrel!)


Click: *FOUND! HAPPY TO BE HOME!!
---
     NIGEL …  Bradford MA-November 2014 

Nigel has been found.  He has passed over the rainbow…
---
 JACK  …  Brewer ME-September 2014  
 

(Not reported found)
---
                                                                                      ZOE … Portland ME-April 2013         WILSON  …  Scarborough, ME-August 2014                   (jumped the fence)


(Not reported found)                                                    (Not reported found)
---